Conference Hotel Florence
 The largest conference centre in Florence, in the cradle of the Italian Renaissance
Conference Hotel Florence
 The largest conference centre in Florence, in the cradle of the Italian Renaissance
Conference Hotel Florence
 Modern, elegant rooms for a stylish visit
Conference Hotel Florence
 Three restaurants offering Italian cuisine
Conference Hotel Florence
 Pool for relaxing moments, living la dolce vita
Conference Hotel Florence
 Elegant hotel in Florence, looking onto the Tuscan hills of San Miniato al Monte
BOOK FROM OUR WEBSITE
Conference Hotel Florence
Conference Hotel Florence
ELEGANT CONFERENCE CENTRE
IN FLORENCE
An elegant hotel in Florence, looking onto the Tuscan hills of San Miniato al Monte, housing a modern conference centre, ideal for meetings and events of all kinds. The close attention paid to every detail, in features such as spacious rooms, ample accommodation for meetings and a panoramic swimming pool, make this the ideal hotel for any traveller wanting to explore Florence, and Tuscany as a whole.
The Conference Hotel Florence is one of the largest conference centres in Tuscany, with its 328 guest rooms and 19 modular meeting rooms, accommodating over 800 people at a single gathering. It is strategically located close to the A1 motorway at the Firenze Sud exit, the Firenze Peretola and Pisa airports, and the railway station of Santa Maria Novella.
Guests will enjoy its range of restaurants, perfect for discovering Tuscan and Italian food, starting with a classic aperitif, followed by traditional Italian cuisine. The Veranda Pool bar is the ideal place to recover from a hard day's work, or to freshen up after a morning spent sunbathing, or even to have informal business chats and make new contacts.
Conference Centre
Close to the gates of Florence is one of the largest conference centres in Tuscany, housed in a modern, newly-refurbished hotel.
A real business centre, with over 2,600 m2 of space for organising conferences, meetings and conventions, fashion shows, large wine and food events, private celebrations, wedding receptions and working meetings of any size.
Conference Hotel Florence
Business Centre Hotel
A business centre suitable for any professional need: smart working areas for individuals wanting privacy, for small working groups or for temporary offices with dedicated meeting rooms.
The Conference Hotel Florence can also ensure successful hybrid training events, such as webinars and streaming sessions for delivering credits in Continuing professional development in medicine.
The success of any event held at the Conference Hotel Florence is ensured by a highly-experience team of event organisers, who can also support PCOs, tour operators and DMCs working on the details of any size of event.
The Conference Hotel Florence can host events with over 1500 participants, in its 19 modular meeting rooms, which can accommodate up to 800 people at once in a single hall. All rooms and conferences spaces are linked to the reception area and floors of the hotel via three lifts. Every meeting room has its own, spacious foyer, ideal for organisational tasks, exhibition areas and coffee breaks.
All the rooms are equipped with the latest multimedia resources to ensure successful events. Video-projectors, amplification, control rooms, interpreter booths, high-speed connectivity, ensuring both hybrid and on-line streaming events proceed without a hitch.
These areas are perfect to use as car showrooms for vehicles of any size, with direct outside access. An excellent hosting service is available on request, with experienced staff for business meetings, conferences or conventions.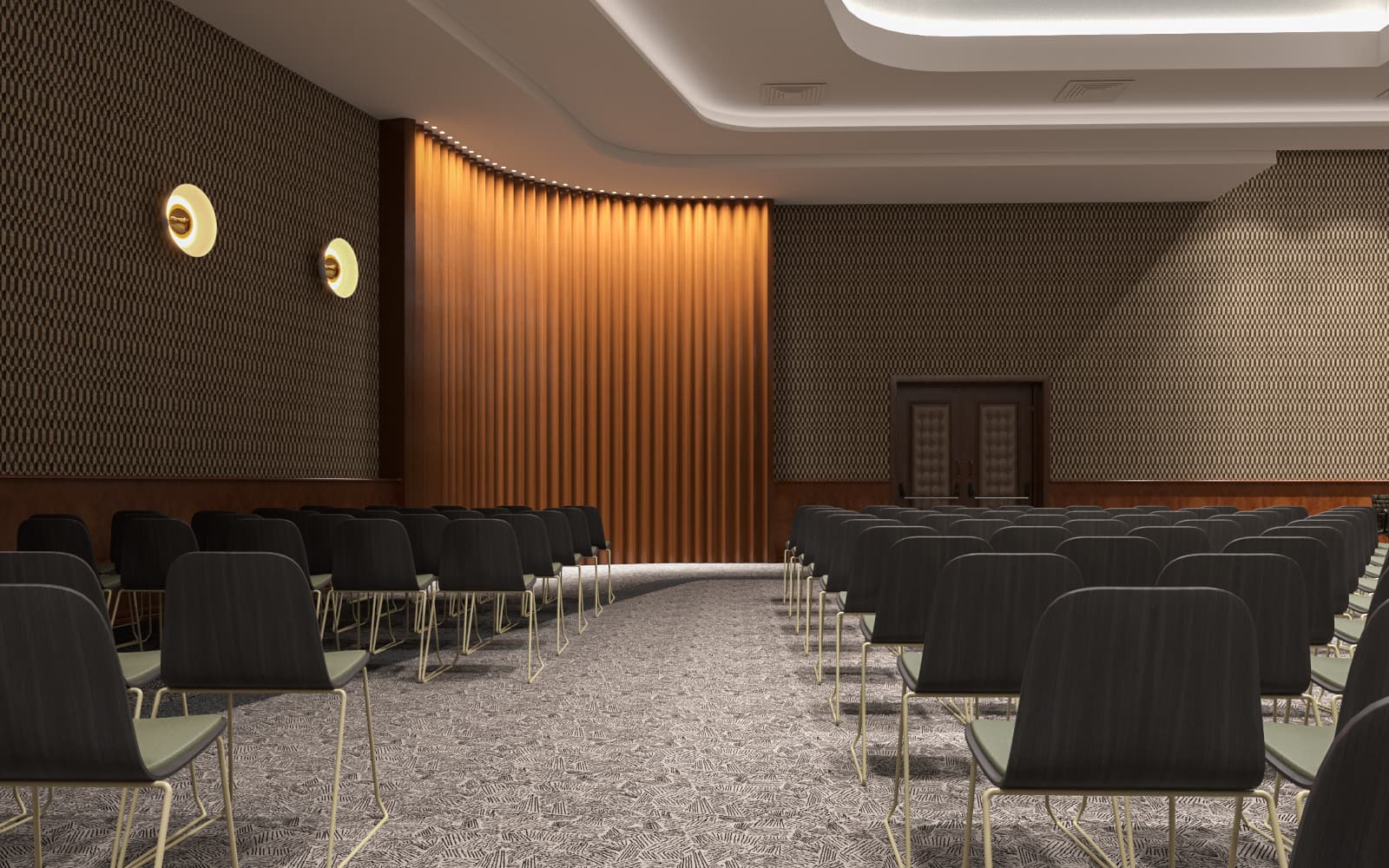 ELEGANT SURROUNDINGS FOR STYLISH LIVING
ELEGANT SURROUNDINGS
FOR STYLISH LIVING
Rooms & Suites
Ideal for those travelling for work and looking for an elegant place in which they can relax after a long day. Perfect for travellers exploring Florence and the magic of Tuscany, looking for a hotel close to the city centre, yet at the foothills of the Chianti wine-growing region. Its 328 newly-renovated bedrooms, refurbished using modern, tactile wood and brass materials, with touches of fresh shades of blue, offer every guest their ideal place to stay.
There are seven different room types, designed for every kind of guest. Each room is airy and bright, with close attention paid to detail and superb furnishings, to ensure the best sleep quality and a pleasant stay. Generously-sized, from over 21 m2 in the Standard room to over 67 m2 in the Presidential Suite, every traveller is ensured the most appropriate setting for their stay in Florence, whether for a business trip or to explore Tuscany. The Suites, the Presidential Suites and the Family Stay rooms, with their two separate areas, work as business lounges as well, somewhere to host small, informal working meetings, in a private space with every comfort.
With careful attention paid to every detail, the rooms in the Conference Hotel Florence are equipped with independent air-conditioning, high-speed Wi-Fi, a safe for laptops, TV with choice of satellite channels and an entertainment system, kettle with choice of teas and infusions, and a minibar. Some have views over the hotel gardens, others face the enchanting Tuscan hillsides of San Miniato al Monte.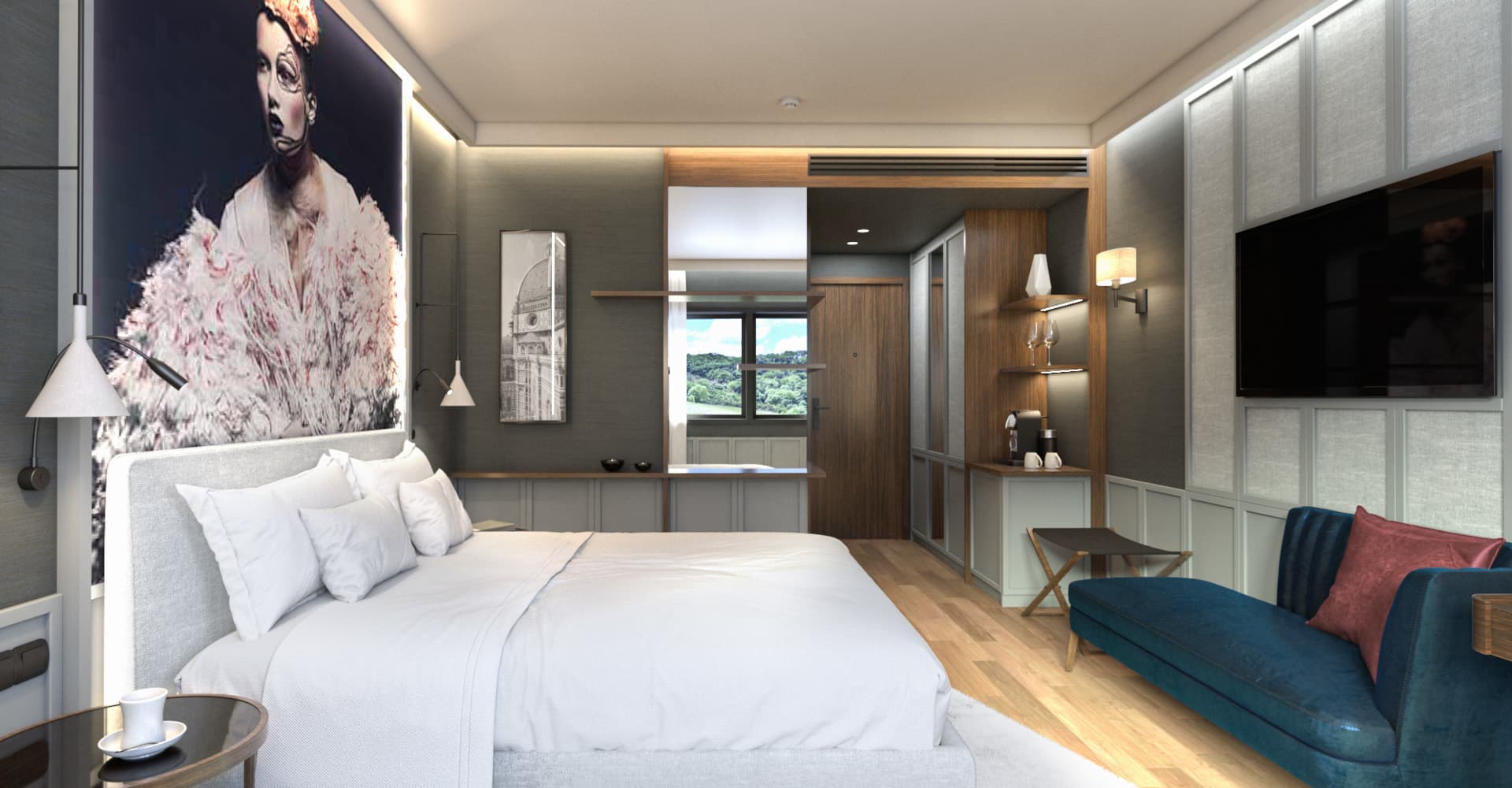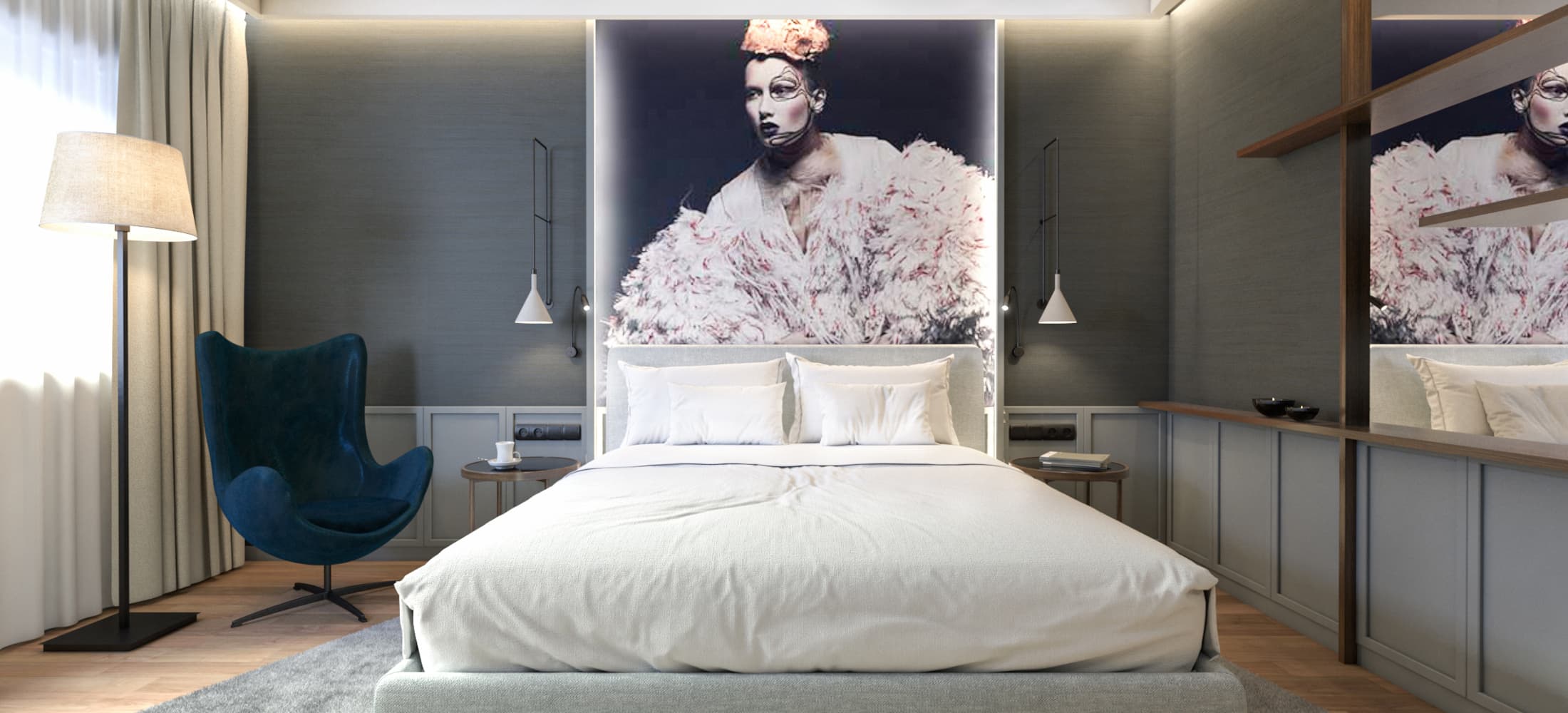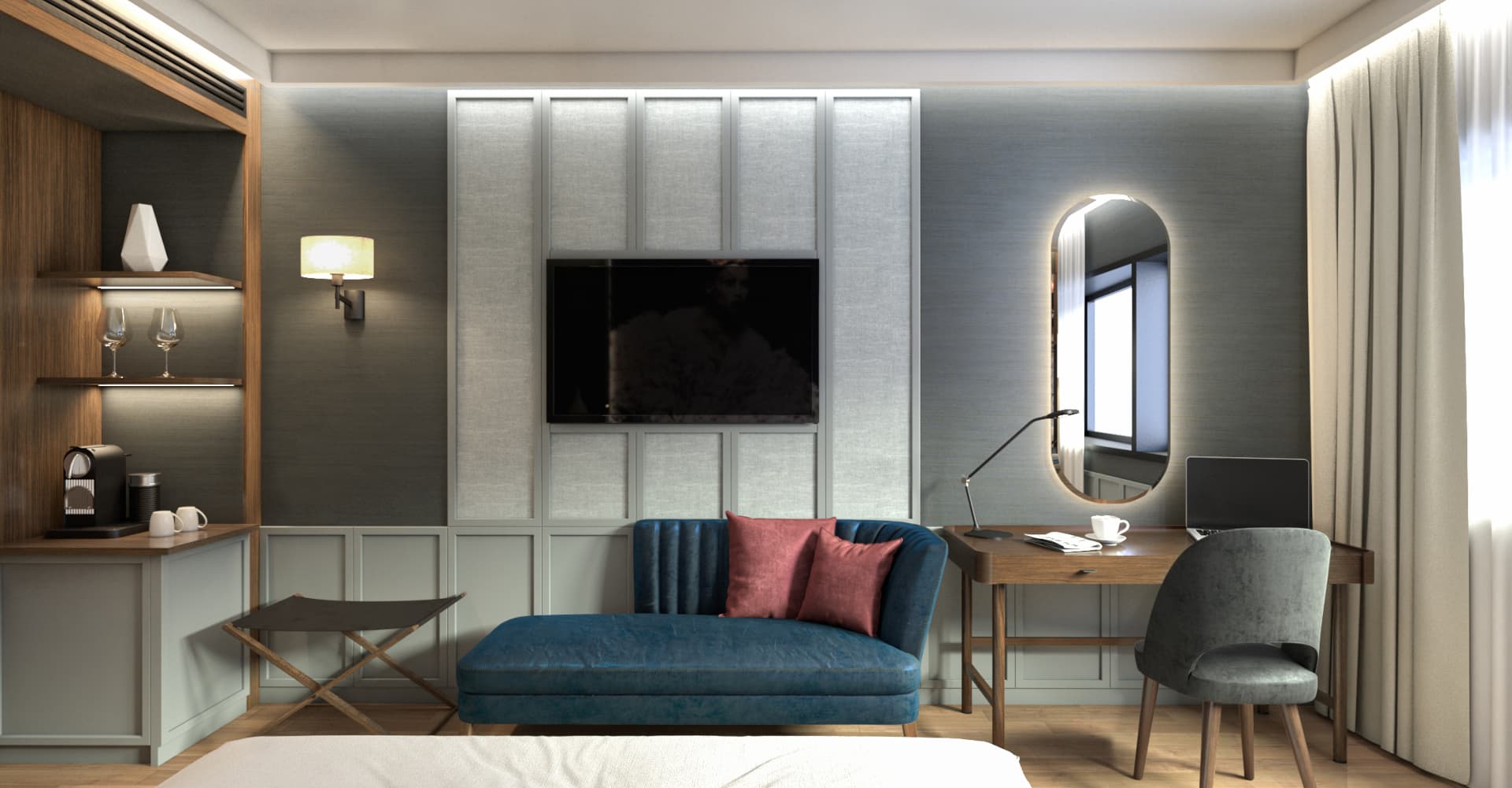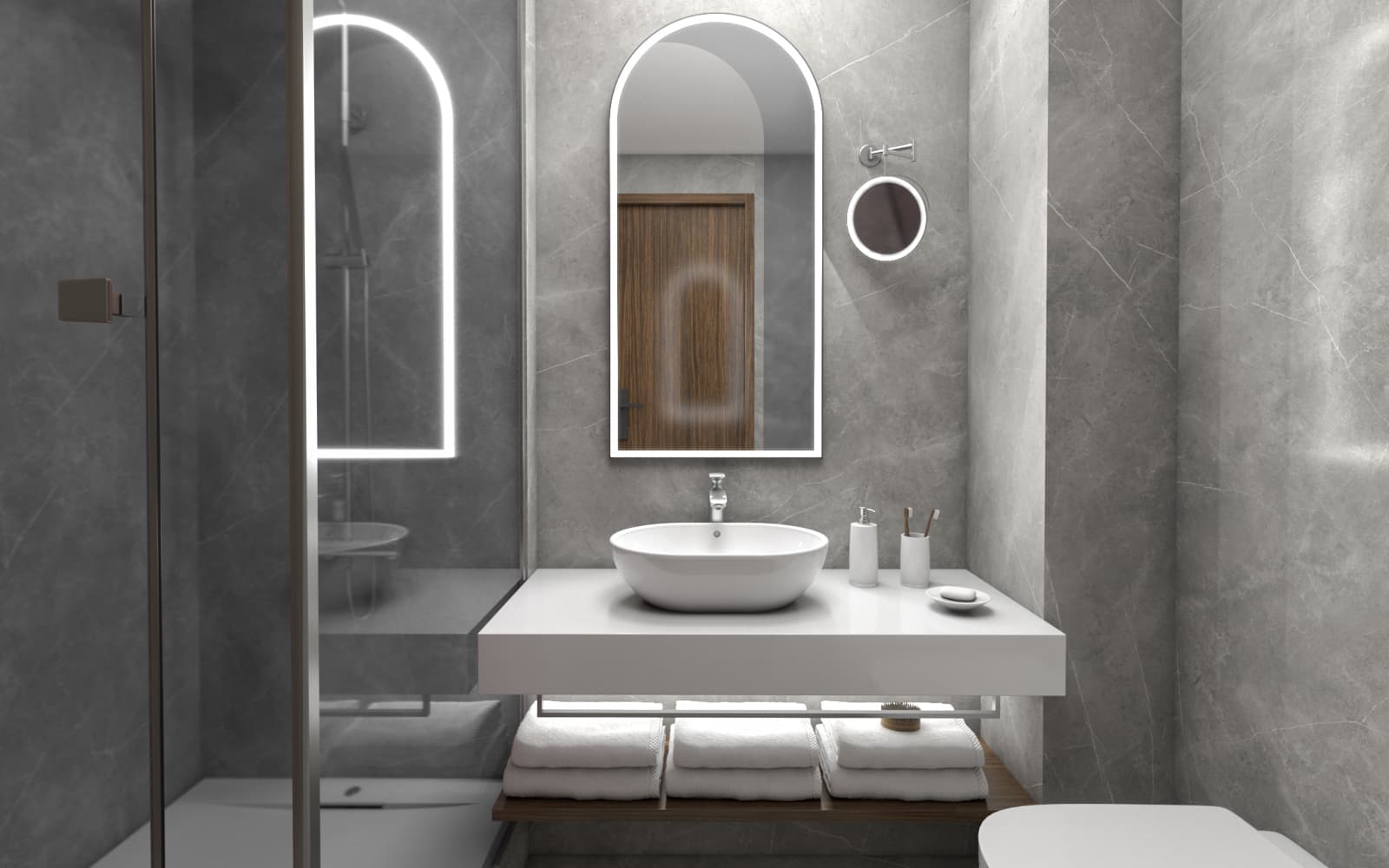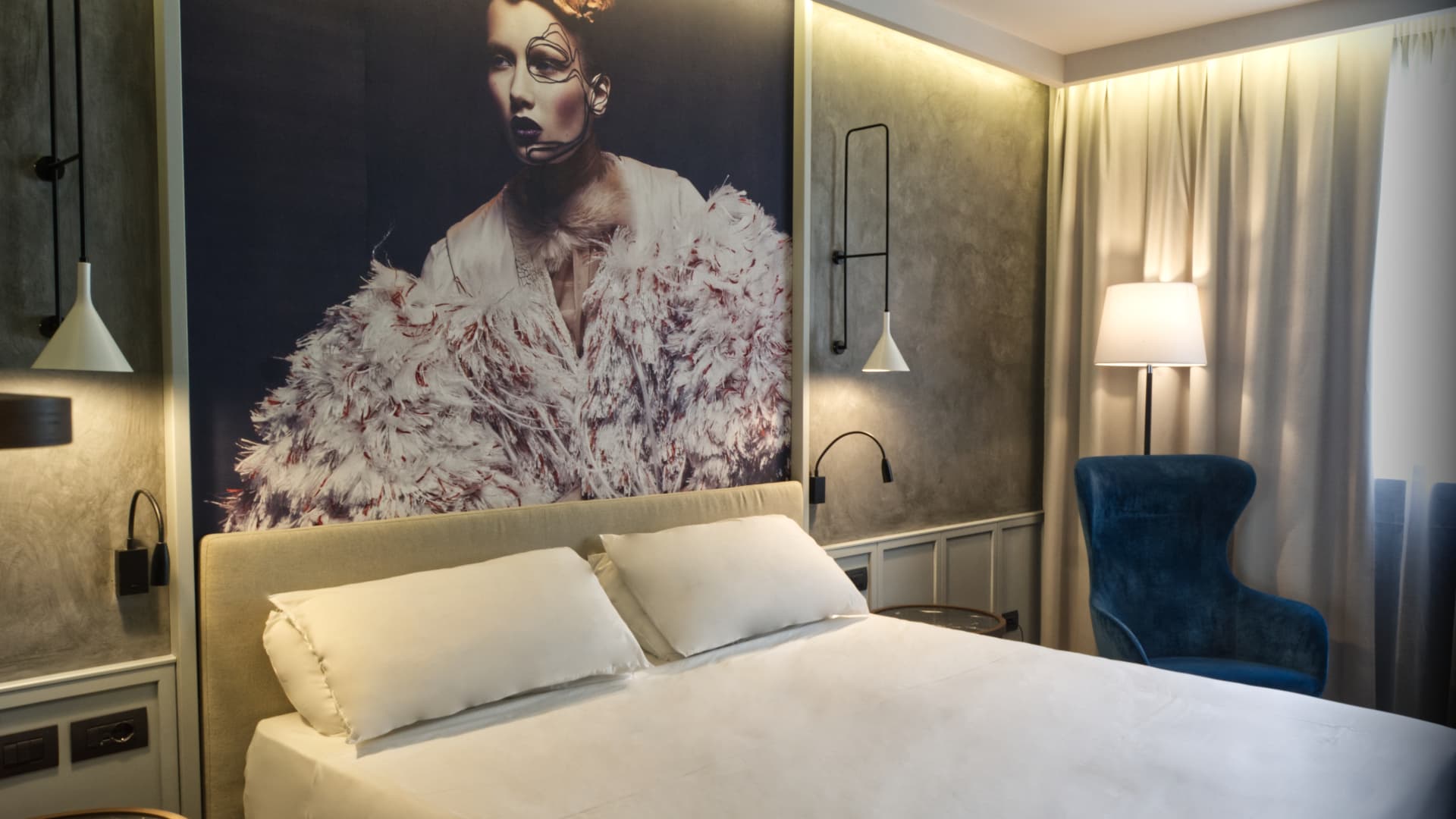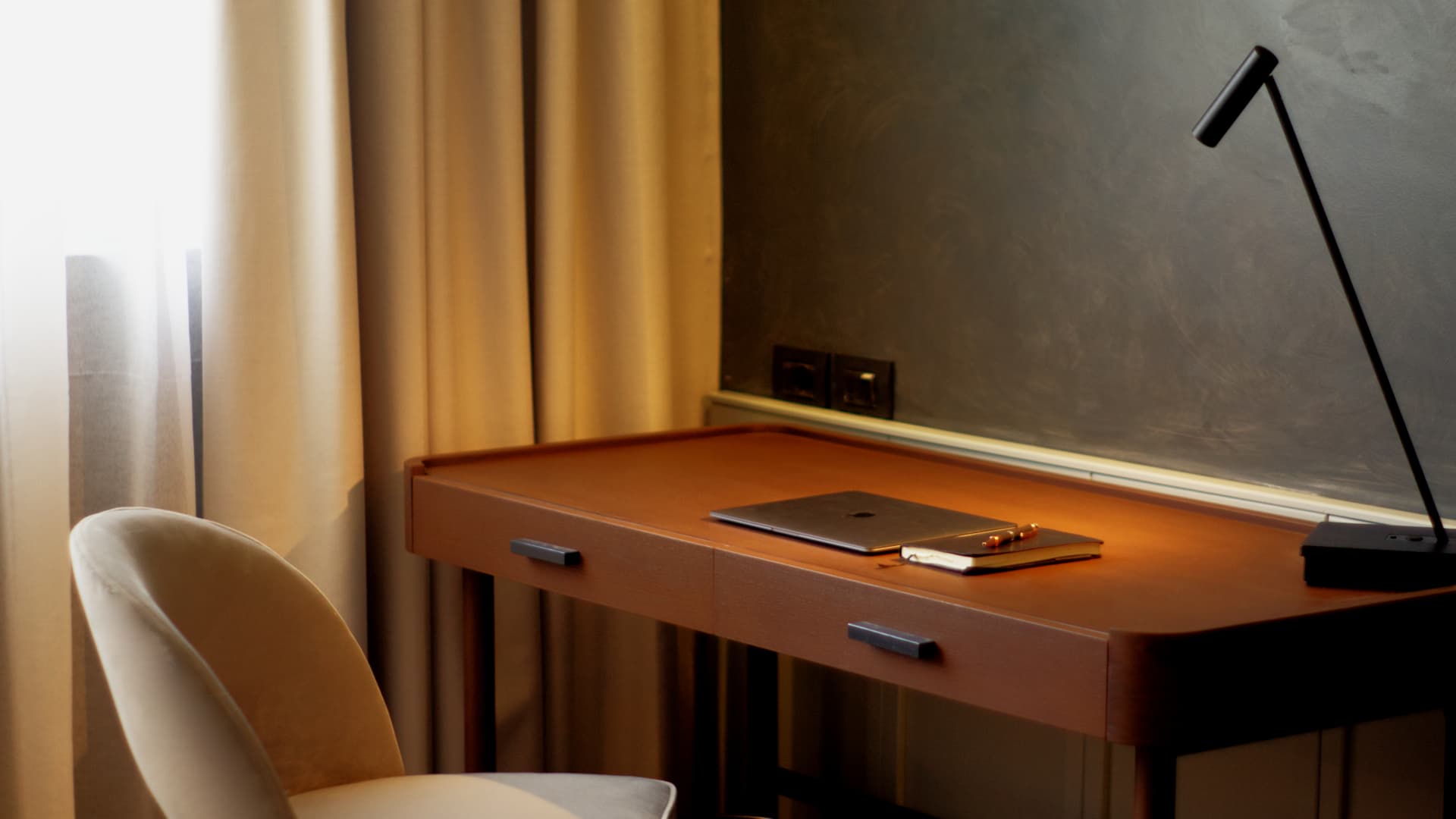 A VOYAGE AROUND ITALIAN CUISINE
A VOYAGE AROUND
ITALIAN CUISINE
Restaurants & Bars
A gastronomic tour, taste after taste, with traditional Tuscan and Italian dishes.
This is the promise kept by the restaurants of the Conference Hotel Florence for the most demanding of gourmets.
La Primavera
Elegant and modern ambiance, where the parquet woodgrain flooring blends with the colours of the seating to create a pleasant contrast. La Primavera restaurant welcomes guests from breakfast onwards, and is open all day, with à la carte menu for both lunch and dinner. During the rest of the day, La Primavera offers a choice of Tuscan and Italian dishes to satisfy any palate.
Cortile Restaurant
For a more elegant or romantic dinner, the Cortile Restaurant is the sophisticated ambience where the woodgrain effect blends with the gilded detail of the architecture. A modern reinterpretation of Art Nouveau, which recalls the architectural tradition of Florence, Lucca, Montecatini Terme and Viareggio, the centres of Liberty-style in Tuscany. Ideal environment for celebrating Mediterranean cuisine, and exploring a region famous for its wine.
APERITIFS AND INFORMAL BREAKS
Lobby Lounge Bar
In the heart of the hotel is the Lobby Lounge and Bar, a space devoted to relaxation, informal meetings and romantic aperitifs.
Privacy is provided by semi-transparent partitions, preserving a bright, light-filled ambience. A warm fire, a glass of wine and some tasty snacks contribute to create the perfect moment.
PANORAMIC SWIMMING POOL
A hotel with pool in Florence, a few minutes from the historic city centre, the cradle of the Renaissance in Tuscany. Looking out over the hills of San Miniato al Monte, the panoramic swimming pool of the Conference Hotel Florence is a refreshing oasis of relaxation after a day spent exploring Florence and the masterpieces of the Italian Renaissance.
Ideal for a dip after a hard day at work. Romantic, elegant place for a cocktail at the poolside, with views of the Tuscan hills.
To complete the experience, an informal meal at the Veranda Pool Restaurant and bar, finished with a traditionally-made ice cream.
The Veranda Pool Restaurant is the poolside bar of the Conference Hotel Florence. Outdoor seating and tables, for a quick, informal working lunch, an elegant aperitif or for relaxing beside the pool.
The pleasantly enjoyable atmosphere at the Veranda Pool Restaurant is enhanced by the view of the Tuscan hills.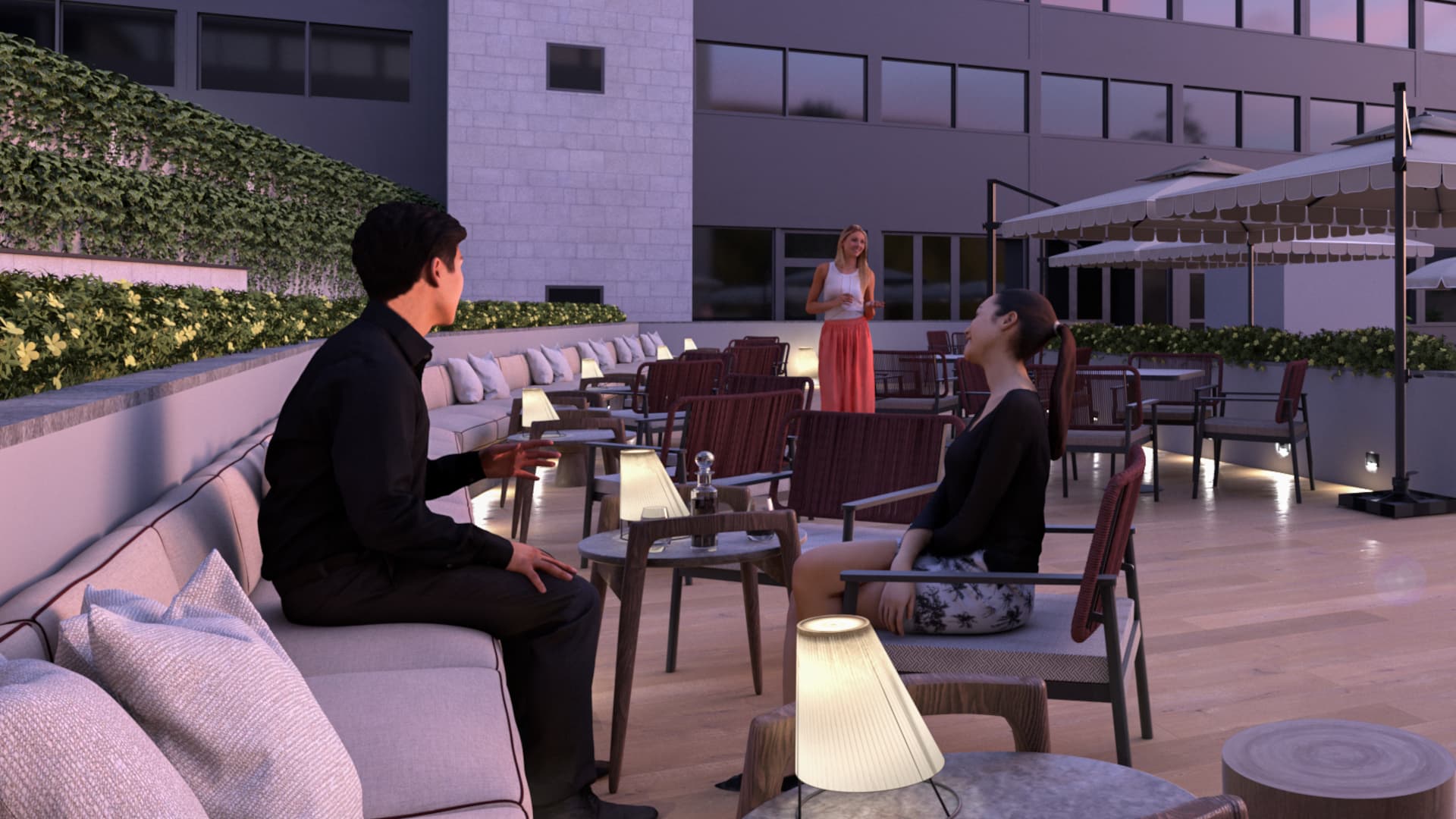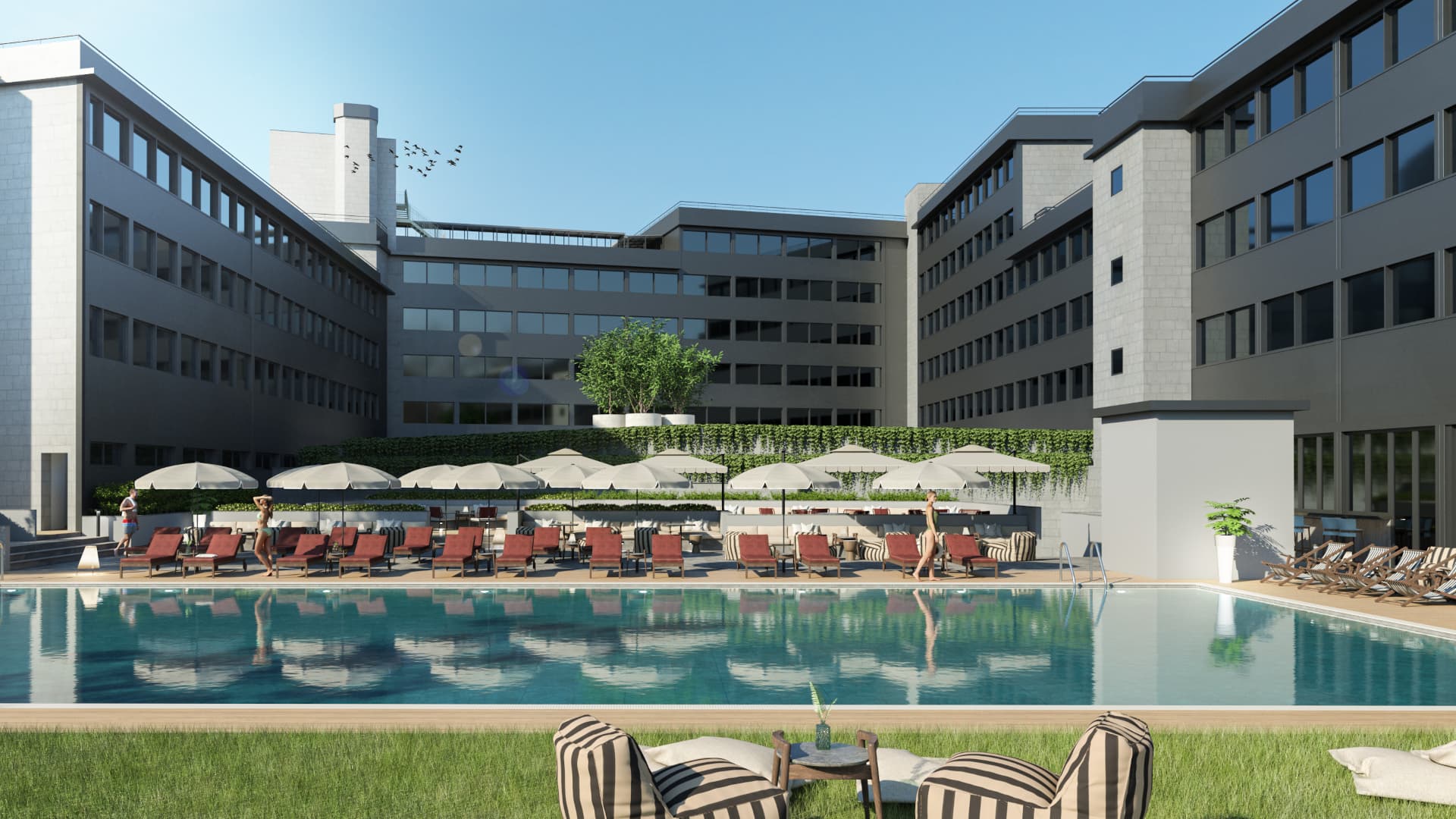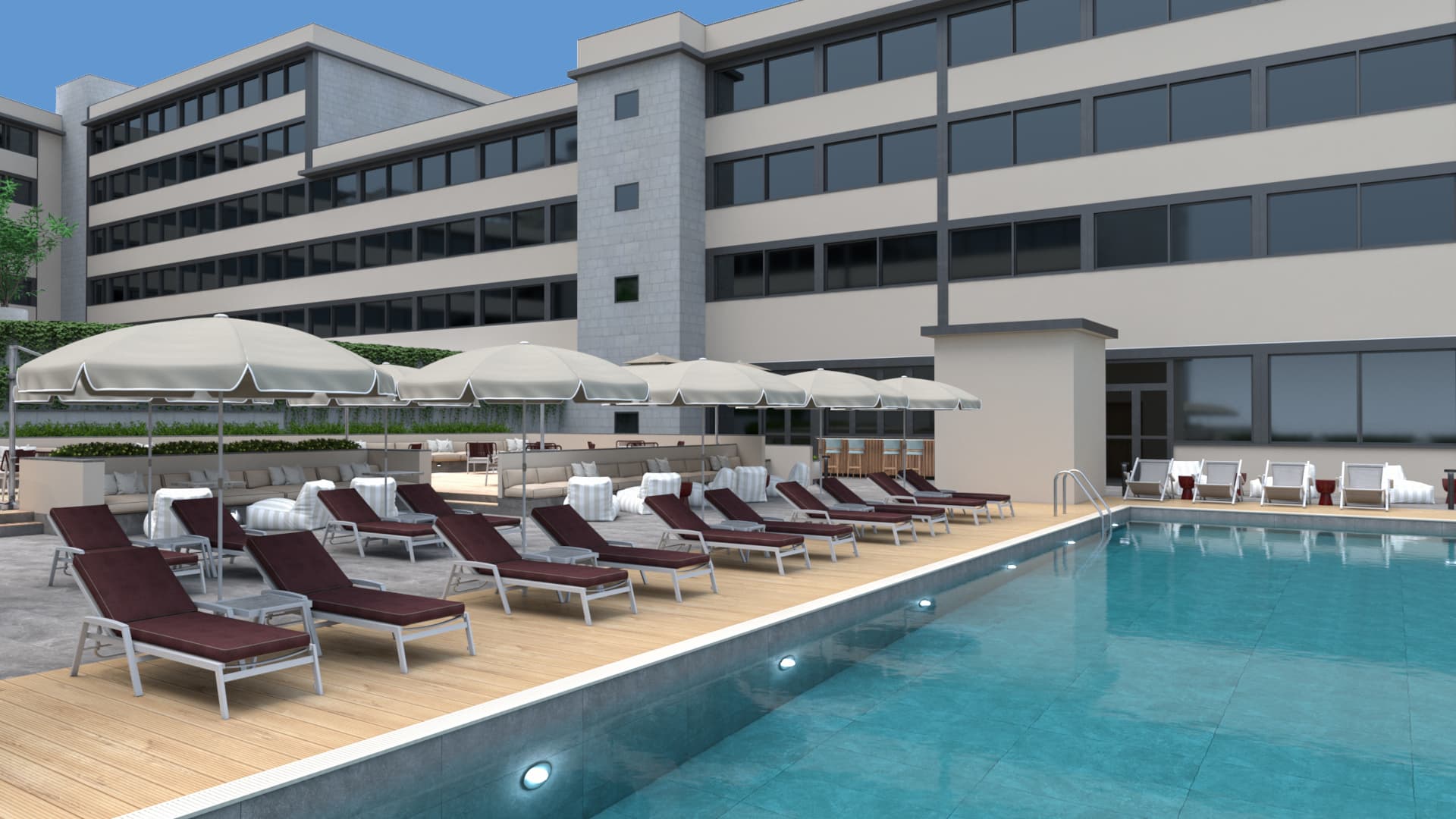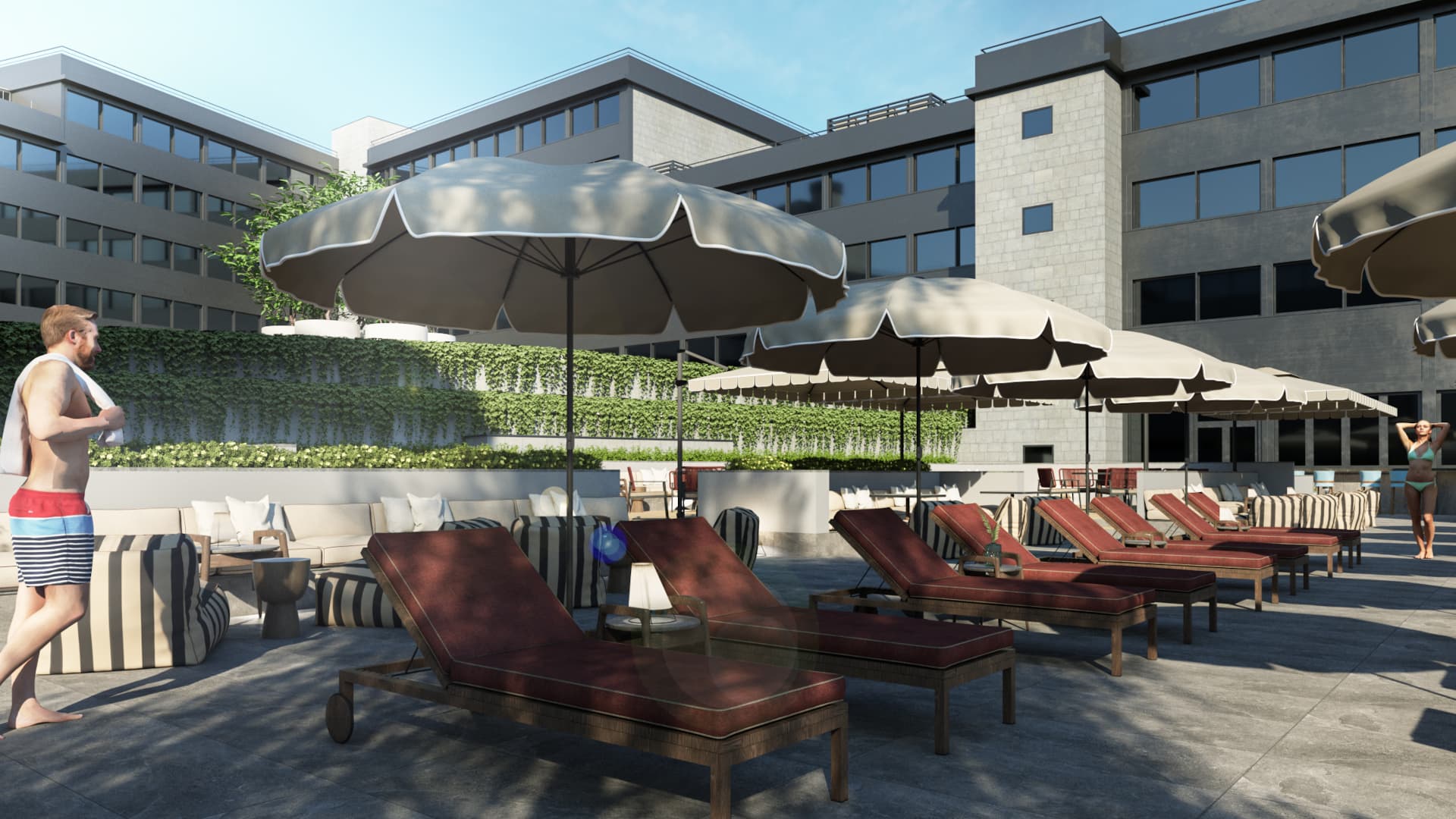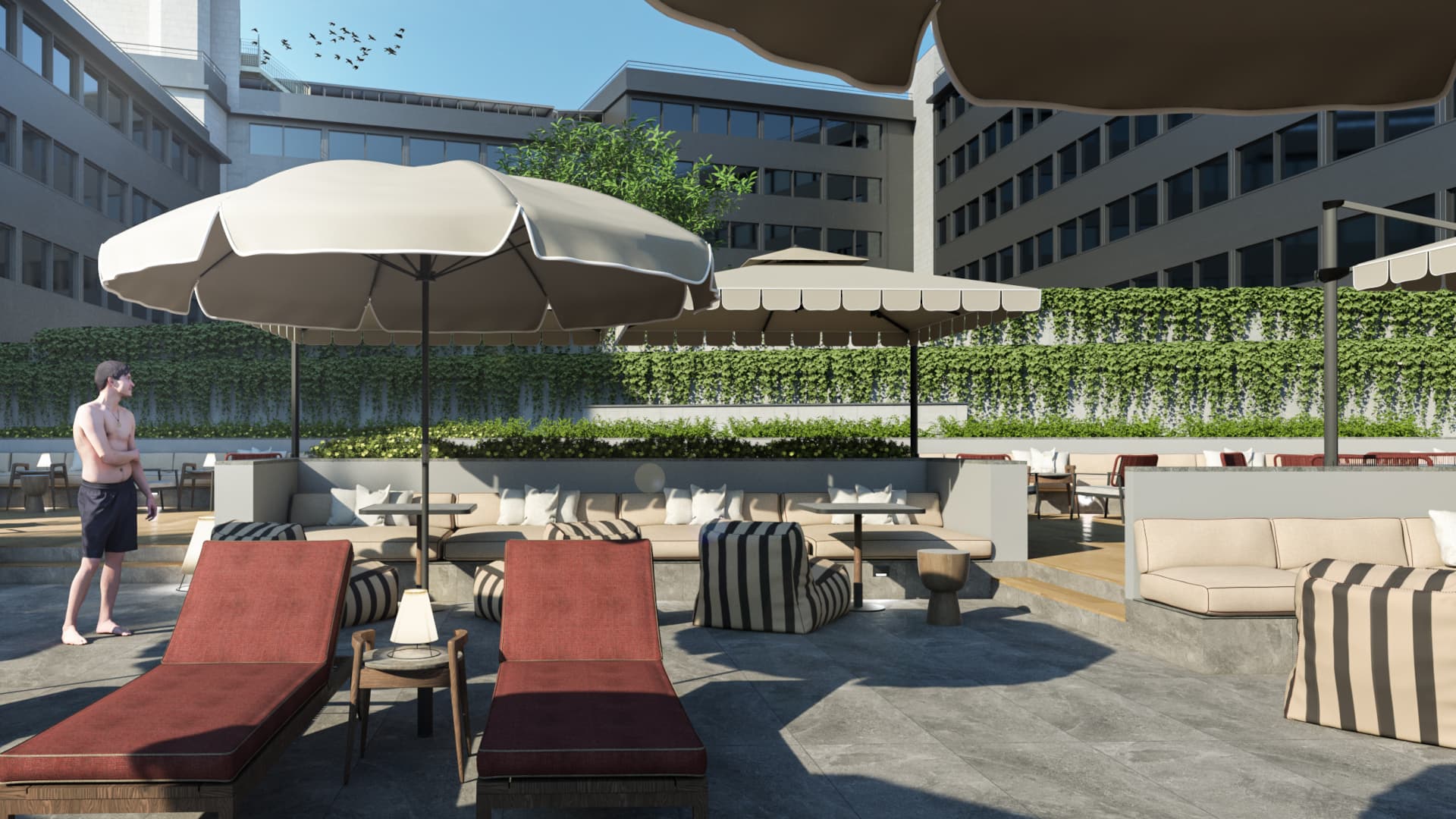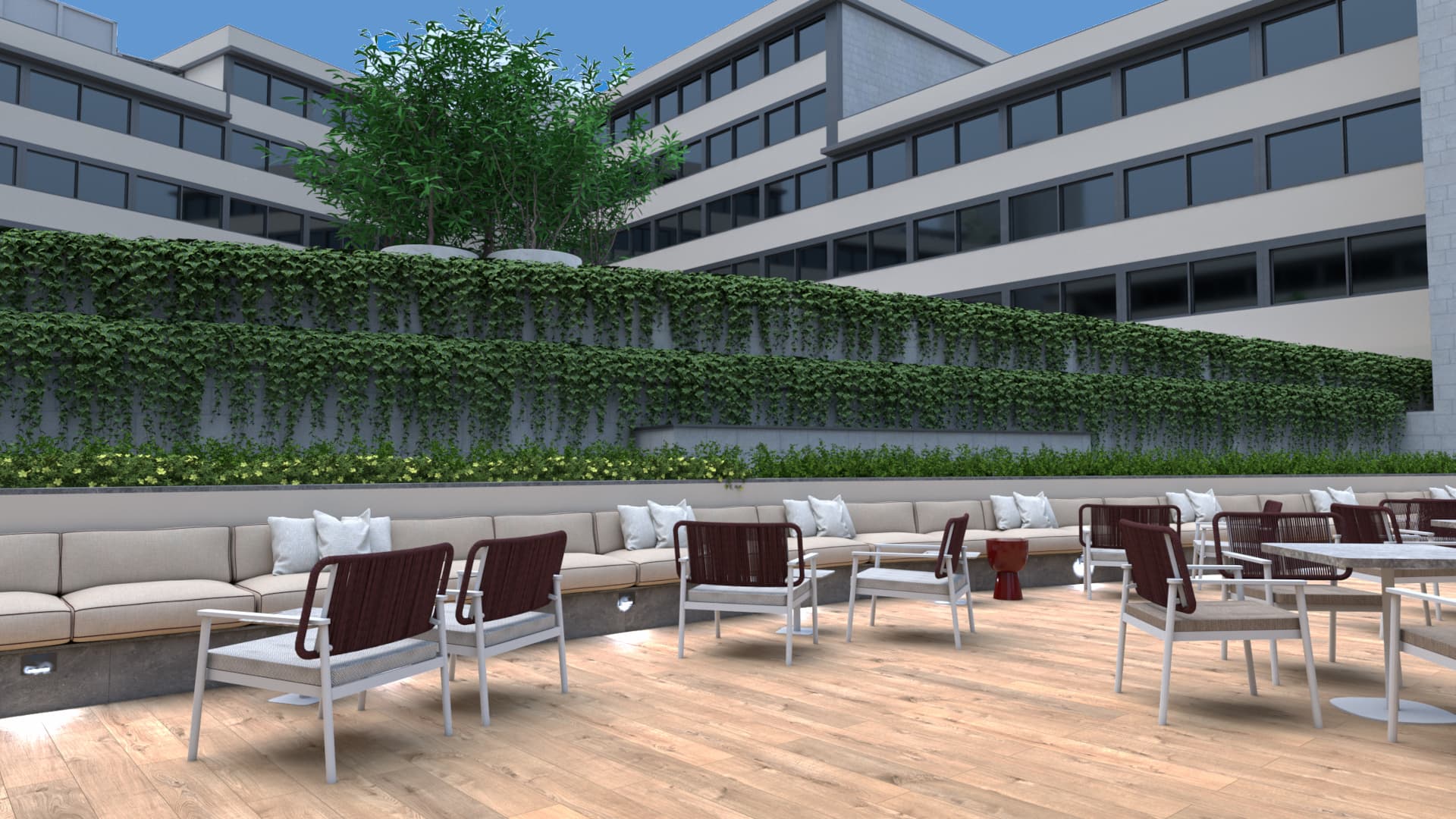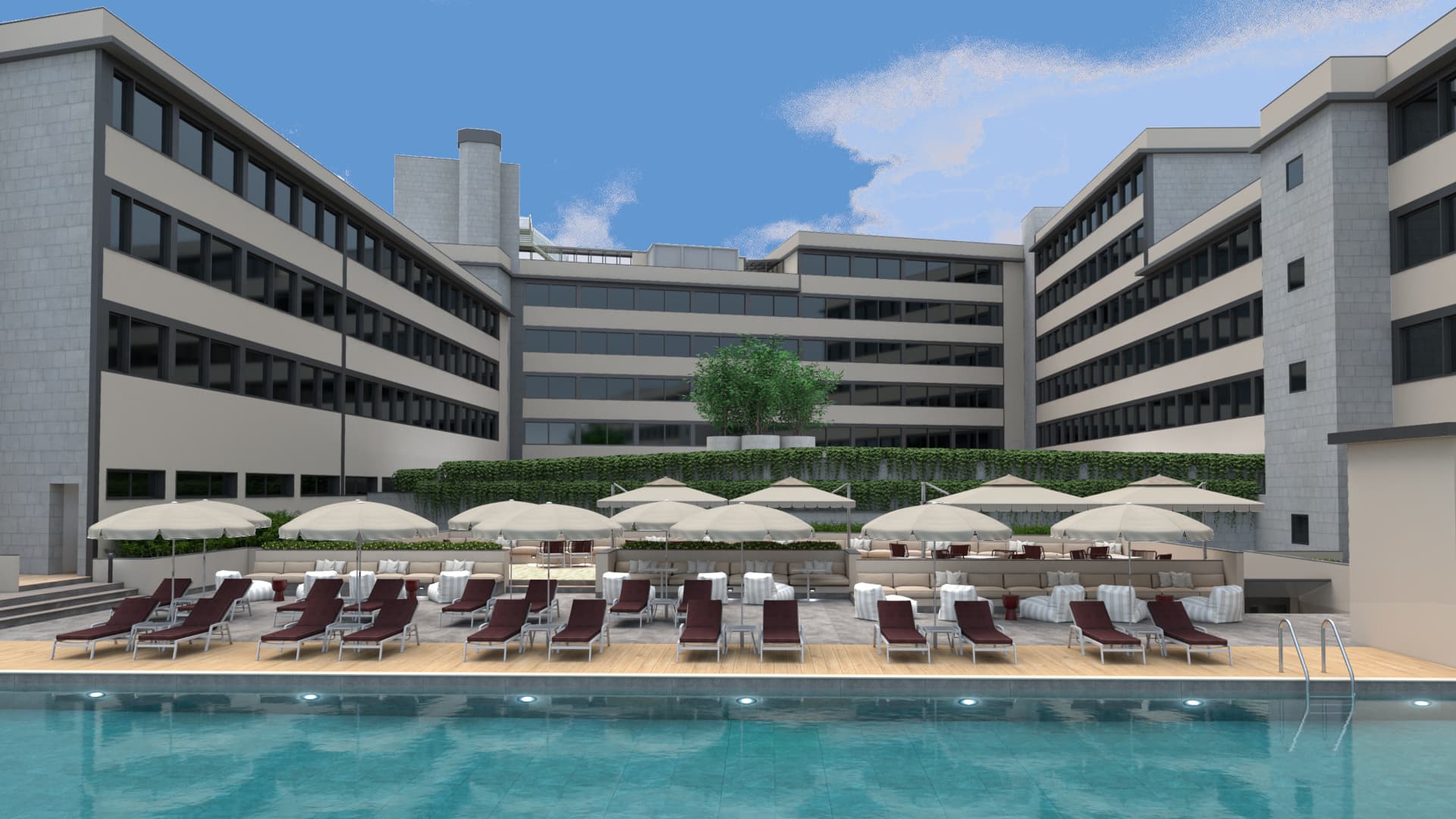 Florence
Florence, mother of the Italian language, cradle of the Renaissance, home to the supreme Dante and Petrarch. A city in which to lose yourself and to fall in love. Florence has so many different places iconic of Italy itself, too many for just a week's visit, or a short stay. The Cathedral of Santa Maria del Fiore, with Brunelleschi's Dome, the Pitti Palace, residence of the Medici family and now the centre of Italian fashion, the Palazzo Vecchio, with its imposing tower housing the copy of Michelangelo's David. Timeless works, witnesses of history, and the cornerstones of Italian identity. The Ponte Vecchio too, now home to the most skilled goldsmiths and craftworkers, the Uffizi Museum, treasure house of masterpieces by Cimabue, Giotto, Botticelli, Leonardo and Caravaggio, and the churches of Santa Maria Novella and Santa Croce, essential places to visit for an understanding of the development of sacred architecture in Italy.
Florence also represents the excellence of Italian taste, with simple dishes such as schiacciata flatbread and ribollita soup, or rich fare such as bistecca alla fiorentina. Tuscany itself is famous for its wine, whether reds like Brunello di Montalcino and Chianti Classico, or whites, like Vernaccia from San Gimignano and the renowned Vin Santo. One way to turn a dinner into a real experience is to match it with a dessert of typical biscotti cantucci.
The Ugolino Golf Club is not far from the hotel, a great place to relax or arrange a pleasant business team event. Also close by is the Coverciano Football School, home of the Italian National Football Team, a destination for devotees of the sport, offering an exciting opportunity to sit in on the training sessions of your favourite players.
via Giovanni Agnelli, 33 , Firenze 50126, Italia
The Conference Hotel Florence is at the Firenze Sud entrance, close to the exit from the A1 motorway, making the hotel a strategic place for visiting the city. It is also easy to reach from the Firenze Peretola and Pisa Galileo Galilei airports, or from the Santa Maria Novella station. There are two regular buses to the city centre, as well as the hotel's own shuttle service.
The Peretola airport is an easy 30-minute drive via the A1 motorway, with the exit close to the hotel. Transport to the hotel can also be arranged by taxi or the hotel's own shuttle service ordered on request.
info.florence@radissonblu.com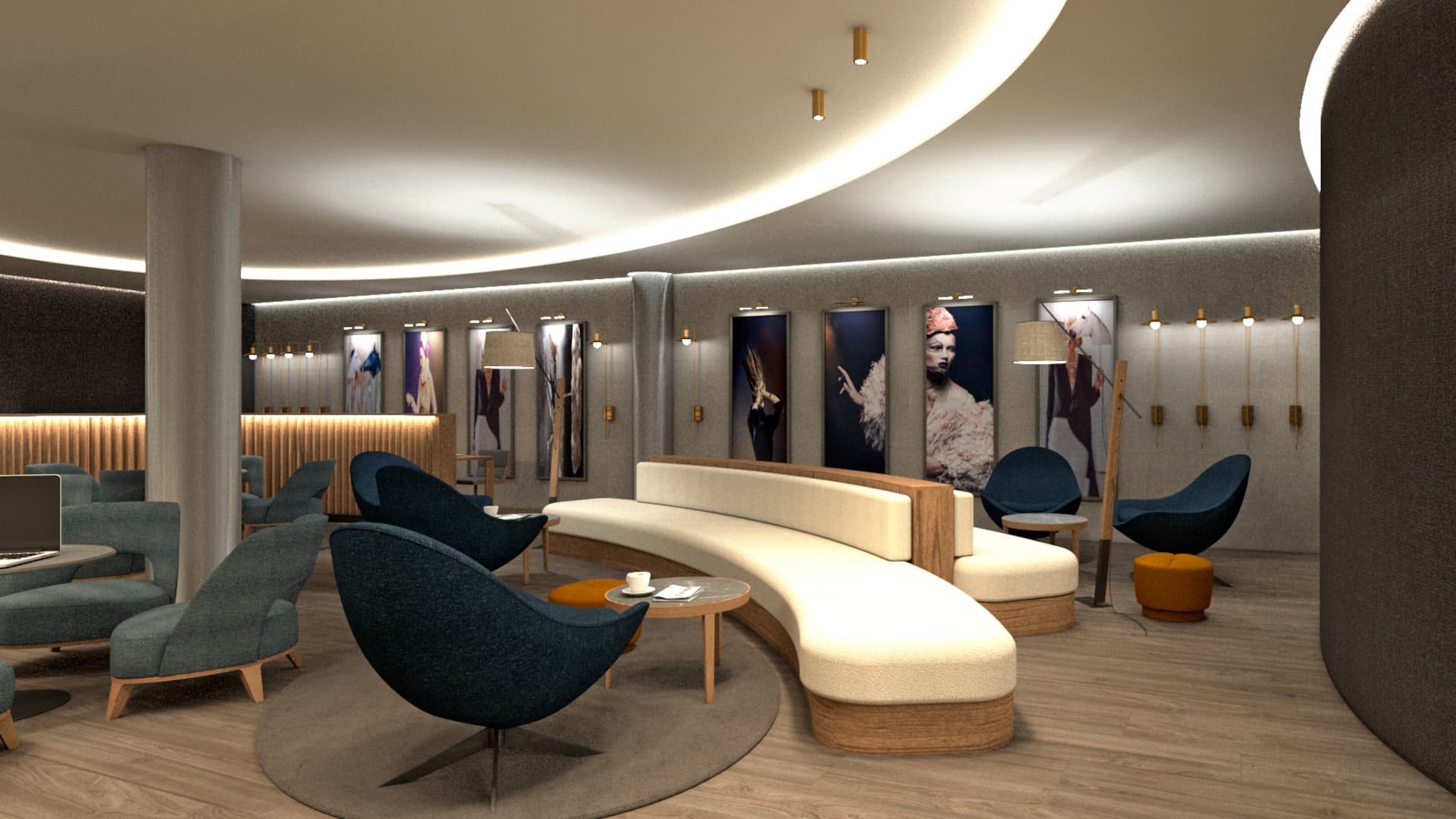 Write to
CONFERENCE HOTEL FLORENCE

CONFERENCE HOTEL FLORENCE
Via G. Agnelli 33
50126 Florence, Italy
GA 2019 S.r.l.
Via Rubicone 9/11 - 00198 Rome
P.I. e C.F.: 15282441003
For booking, general information, support for events organisation.
info.florence@radissonblu.com Amadeus: OK FLRAIT | Sabre: OK 286319 | Galileo: OK F1996 | Worldspan: OK FLRFL | Pegasus ADS: OK 13120
Welcome to RADISSON BLU FLORENCE
Preview the completely renovated hotel. Discover the promotions and exclusive packages for the launch. Next opening.
Stay up to date!